I wasn't that acquainted with Paul Klee until I started teaching fine art to preschoolers.
Oh what a wealth of inspiration he is!
A few online resources:
https://www.tate.org.uk/art/artists/paul-klee-1417/a-z-paul-klee
Quick Bio:
Paul Klee (18 December 1879 – 29 June 1940) was a Swiss-German artist. He was one of the most famous painters of the 20th century. His work was influenced by Expressionism, Cubism, and Surrealism. He was also very interested in the theory of color.https://kids.kiddle.co/Paul_Klee
One of my favorite mom/art project bloggers, artsycraftymom, has some great additional links.
We have recreated two of his paintings with my younger students.
The one I'm featuring today is: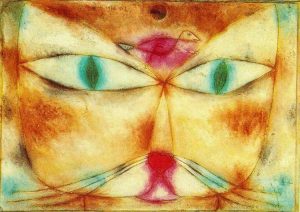 Cat and Bird 1928
Cat and Bird
Supplies:
Drawing paper (something a bit heavier than copy paper)
oil pastels
baby oil
color paper for bird
scissors
glue or tape
Book :
The Cat and the Bird by Geraldine Elschner, illustrated by Peggy Nile
Step 1:
Look at the painting and ask children what they see. There are no wrong answers.
If they need encouragement ask about colors, shapes, emotions, placement of bird.
Step 2:
Cut out shapes for the bird. It's body is three basic shapes. (For younger kids, you can pre-draw or pre-cut shapes)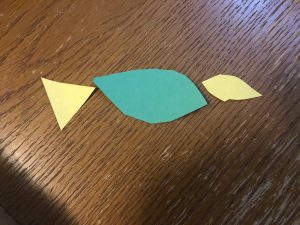 Step 3:
Fold the sheet of drawing paper in half.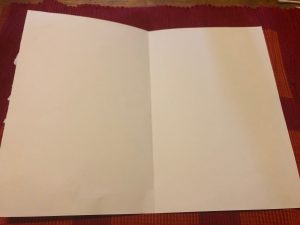 Using the folded line as a guide so you get the face to take up the full page, start drawing the face. I used a dark purple oil pastel and started by drawing the eyes centered on each half page and the snout and nose (almost) on the center line.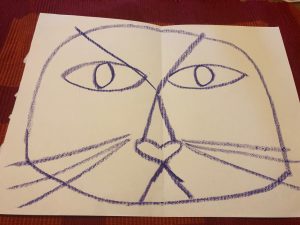 Step 4: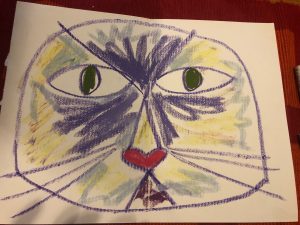 Using oil pastels, color the cat's face.
Step 5: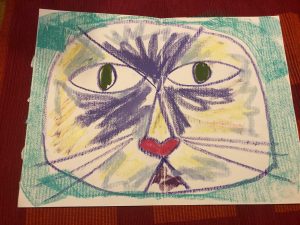 Color the background.
Some students followed the painting and used the same colors for the background as the face, others came up with some lovely color combos!
Tip: Really use those oil pastels, cover everything and feel free to saturate the drawing with color.
Step 6: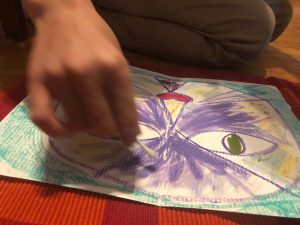 After coloring, dip a cotton ball or q-tip into the baby oil. (A little goes a LONG way) and use it to smear the oil pastels. I have been known to pour a tiny amount of baby oil directly onto the art work to help younger students spread the oil to the entire artwork.
Tip: Do the face portion first. Then use a fresh cotton ball or q-tip for the background. (The baby oil smears the pastels, giving you the dreamy effect of the original artwork.)
Step 8:
Let dry!
Step 9:
Assemble your bird and glue (tape can work here too) it onto the cat's forehead.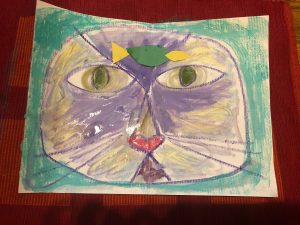 Here are examples from my class!